03.17.2016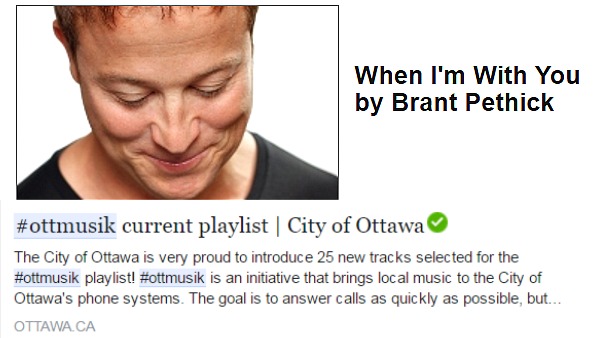 Ottawa – Anyone who is put on hold after dialing the City of Ottawa will hear local music while they wait. This is the goal of #ottmusik, a new City initiative launched by Mayor Jim Watson with a call to local musicians.  
"#ottmusik offers a new platform for local musicians to introduce and share their music with a wider audience," said Mayor Watson. "I hope all Ottawa residents and music fans share my enthusiasm for this project and my excitement about hearing the music samples that will be submitted to #ottmusik."  
"#ottmusik promotes the rich and diverse nature of Ottawa's music scene by sharing these musical gems with residents who may not have had the opportunity to hear it otherwise," said Councillor Diane Deans, Chair of the City's Community and Protective Services Committee. "It's an exciting opportunity for residents to enjoy some of the best music our city has to offer."  
Brant Pethick's new single, When I'm With You was selected among close to 100 entries from local Ottawa musicians.  
Read Brant's profile and listen here: 2016 #ottmusik